THE NEW WAY TO BUY USED




Certified Used Hot Tubs From Experts You Trust. 
Each Certified Used Hot Tub has:



84-point inspection
100% CleanFlush on pumps, plumbing & surfaces
Brand new filters
A brand new cover
Financing available
Free delivery in Saskatchewan (or a pick up credit of $300)
3 month chemical kit included
90-day warranty*
* on parts & labour on mechanical and plumbing





Certified quality used Hot Tubs are kept in our warehouse and not at the store.Would you like to make an appointment to see our warehouse refreshed Hot tub selection? Let us know and we will contact you ASAP!


---
2014 Coast SilkSpa - SOLD
2014 Coast SilkSpa
White Marble coloured interior/exterior
$2475 + taxes
---
1993 Hot spring classic - SOLD
1993 Hot spring classic, upgraded equipment.
USE=60=R=2019=wat=005
$2499 + taxes
---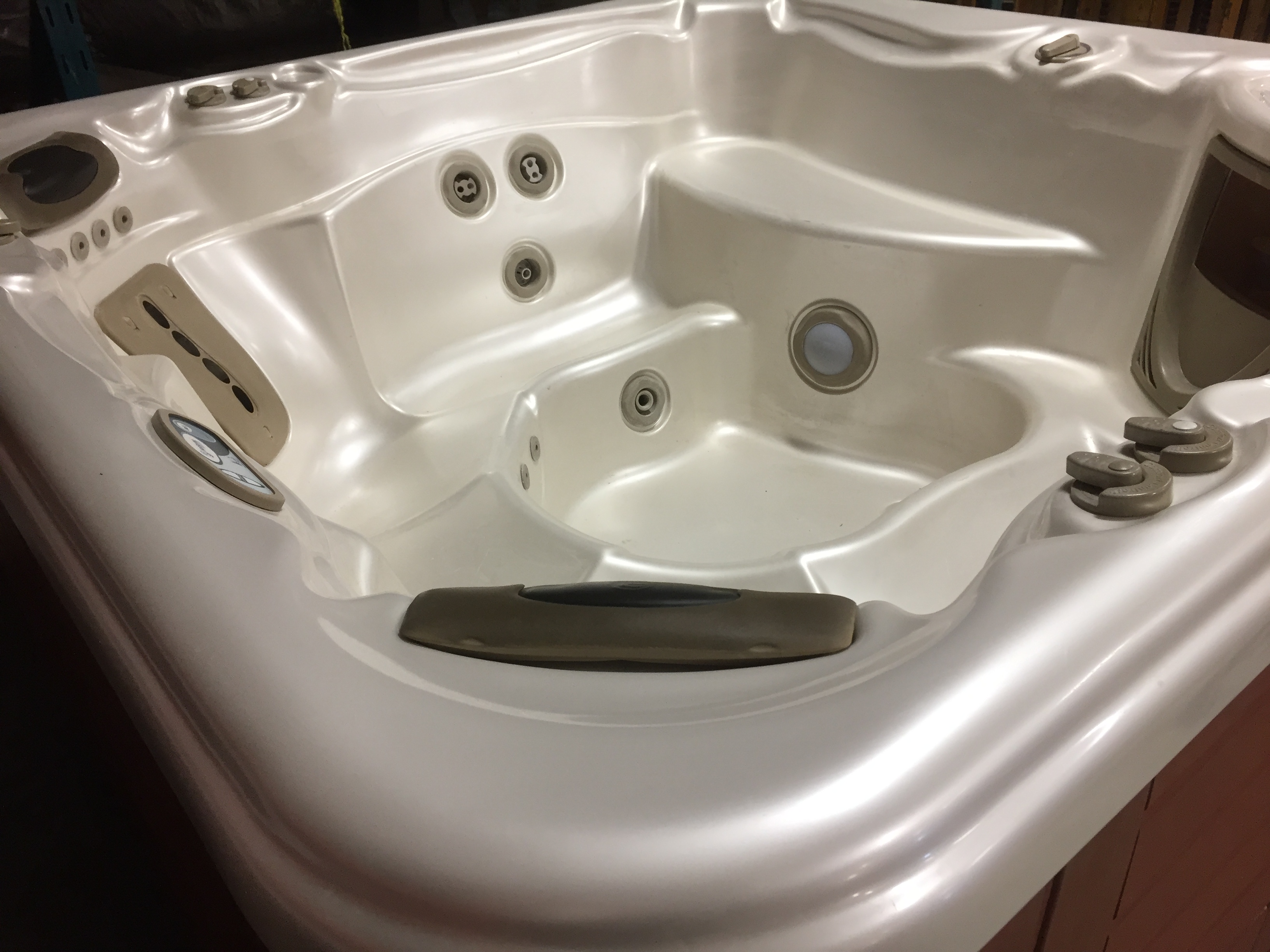 2003 Hot Spring Vanguard - SOLD
USE=60=R=19=WAT=006
2003 Hot Spring Vanguard 
$4995.00 + tax
---
2019 Bullfrog R5L - SOLD
2019 Bullfrog R5L
Platinum shell, Driftwood cabinet
Regular price: $11,500.00 + tax, NOW $8,500.00 + tax

\
---
2019 Bullfrog A8 - SOLD
2019 Bullfrog A8
Platinum shell, Slate cabinet (photo example only – stocked item still in original wrapping)
Regular price: $21,500.00 + tax, NOW $16,500.00 + tax
---
2019 Bullfrog X8 - SOLD
2019 Bullfrog X8
Platinum shell, Harbour Grey cabinet (photo example only – stocked item still in original wrapping)
Regular price: $14,500.00 + tax, NOW $11,500.00 + tax
---
2019 Bullfrog X7 - SOLD
2019 Bullfrog X7
Cloud shell, Harbour Grey cabinet (photo example only – stocked item still in original wrapping)
Regular price: $12,500.00 + tax, NOW $9,500.00 + tax
---
2019 Bullfrog A8 - SOLD
2019 Bullfrog A8
Sunset shell, Orchard cabinet 
Regular price: $21,500.00 + tax, NOW $16,500.00 + tax
---
2019 Hot Spring Grandee - SOLD
2019 Hot Spring Grandee
Platinum shell, Shale cabinet
Regular price: $21,500.00 + tax, NOW $16,500.00 + tax
---
2019 Hot Spring Aria - SOLD
2019 Hot Spring Aria
Platinum shell, Driftwood cabinet (photo example only – stocked item still in original wrapping)
Regular price: $19,500.00 + tax, NOW $15,500.00 + tax
---
2019 Hot Spring Sovereign - SOLD
2019 Hot Spring Sovereign
Ivory shell, Sand cabinet
Regular price: $17,500.00 + tax, NOW $13,900.00 + tax
---
2019 Hot Spring Triumph - SOLD
2019 Hot Spring Triumph
Alpine White shell, Bronze cabinet
Regular price: $16,500.00 + tax, NOW $13,000.00 + tax
---
2019 Hot Spring Flash - SOLD
2019 Hot Spring Flash
Tuscan shell, Espresso cabinet (photo example only – stocked item still in original wrapping)
Regular price: $13,500.00 + tax, NOW $11,500.00 + tax
---
2019 Hot Spring Grandee - SOLD
2019 Hot Spring Grandee
Alpine white shell, Shale cabinet
Regular price: $21,500.00 + tax, NOW $17,500.00 + tax
---
2019 Hot Spring Vanguard - SOLD
2019 Hot Spring Vanguard
Alpine White shell, Brushed Nickel cabinet
Regular price: $19,500.00 + tax, NOW $15,900.00 + tax
---
2019 Bullfrog X8 - SOLD
2019 Bullfrog X8
Platinum shell, Harbour Grey cabinet
Regular price: $14,500.00 + tax, NOW $11,500.00 + tax
---
2019 Bullfrog X7L - SOLD
2019 Bullfrog X7L
Platinum shell, Harbour Grey cabinet (photo example only – stocked item still in original wrapping)
Regular price: $12,500.00 + tax, NOW $9,500.00 + tax
---
Birch Bay BT-7N - SOLD
USE=60=R=20=BBA=001
Birch Bay BT-7N 
$3999.00 + tax
---
2019 Coast Apex Curve Lounge - SOLD
2019 Coast Apex Curve Lounge
Sterling Marble shell, Grey cabinet
Regular price: $15,194.00 + tax, NOW $11,899.00 + tax
---
2019 Hot Spring Beam - SOLD
2019 Hot Spring Beam
Tuscan shell, Espresso cabinet
Regular price: $11,500.00 + tax, NOW $9,500.00 + tax
---
2018 Bullfrog R7L SOLD
2018 Bullfrog R7L
Platinum shell, Driftwood cabinet (photo example only – stocked item still in original wrapping)
Regular price: $15,000.00 + tax, NOW $12,500.00 + tax
---
2006 HotSpring - Vanguard SOLD
USE=60=R=2019=WAT=003
2006 HotSpring Vanguard
White Marble shell colour
Grey Exterior skirt colour
$4975 + taxes
SOLD
---
2018 Hot Spring Prism SOLD
2018 Hot Spring Prism SOLD
Ice Grey shell, Grey cabinet
Specs: 9'2" x 7'7" width, 38" height 
Regular price: $21,500.00 + tax, NOW BLOWOUT SALE PRICING: $11,750.00 + tax
---
2019 Hot Spring Flash SOLD
2019 Hot Spring Flash
Platinum shell, Grey cabinet 
Regular price: $13,500.00 + tax, NOW $11,750.00 + tax
---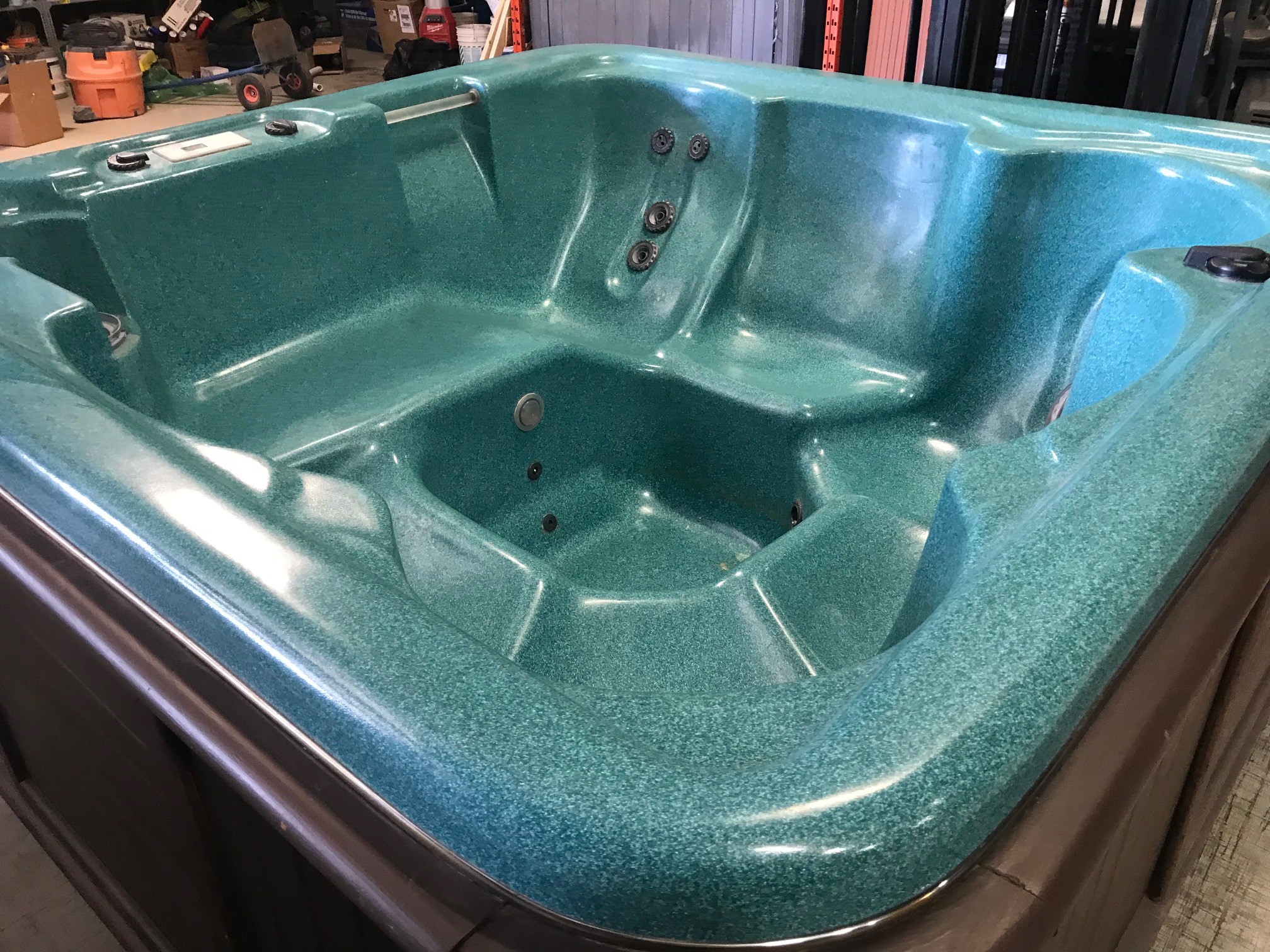 1998 Arctic Spa........ SOLD
USE=60=R=2019=ART=001
1998 Arctic Spa
SeaSpray Granite coloured interior shell
Walnut coloured cedar exterior skirt
$3795 + Taxes
---
Obara/Galbocca Spa SOLD
USE=60=R=2019=GAL=001
Obara/Galbocca Spa (model year unknown)
Black Granite coloured interior shell
Redwood coloured cedar skirt
$3975 +taxes
---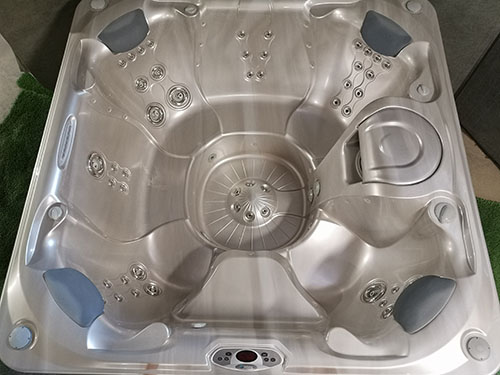 2013 Hot Spring Pulse SOLD
USE=60=R=19=WAT=008
2013 Hot Spring Pulse 
$5275.00 + tax
---
2010 Coast Elite Vantage Curve 45 SOLD
USE=60=R=19=CST=002
2010 Coast Elite Vantage Curve 45 
$4995.00 + tax
---